As a business owner, you have an important decision to make: should you replace your obsolete telephone systems with a modern Voice over Internet system, or keep what you have?
Does your business currently have an old, but reliable telephone system that does basically what you want it to do: make and receive telephone calls. You have heard about Voice over Internet Protocol, commonly referred to as VoIP; however, two immediate questions come to mind: first, what exactly is VoIP; and of even greater importance, how will it actually benifit my business.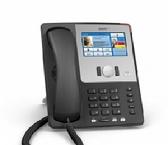 Snom 870 Touch Screen Telephone
What is VoIP
VoIP or (Voice over Internet Protocol) allows you to make telephone calls over the public Internet by converting your voice into a digital signal. Once digitized (turned into ones and zeros), your telephone calls are no longer switched from one phone to another, but rather are processed by a computer know as a VoIP PBX. The value-added features of VoIP, such as auto-attendants, and voicemail boxes are now created with individual VoIP PBX computer programs, not by the addition of extra equipment or third party service providers such as after-hours answering services.
The Top Three Reasons to Consider VoIP for Your Business: Price, Flexibility, and Mobility
Price:
Saving money on all aspects of your telephone system by switching to VoIP is clearly the most notable benefit. As VoIP works over the Internet, and not via traditional telephone lines, you greatly reduce all associated cost, which includes everything from standard line rental charges, the actual cost of calls, and third party companies that you must rely on for after hours service. VoIP is particularly beneficial for those companies who make a considerable number of long-distance calls.
Flexibility:
With technology continually being developed and customer requirements always changing, it is vitally important that organizations maintain a high degree of flexibility. One of the key reasons this relates to VoIP is it's high degree of scalability. Given that it is an Internet-base service, wiring is limited to a single Ethernet cable per phone, or phones may be wireless, eliminating office wiring altogether. When moving or reorganizing your office, all adds, moves, and changes to your network are made from a keyboard, not by moving wires and cables. Staff can even access their part of the VoIP network remotely, making home office access very simple to setup.
Mobility:
SmartPhones and tablets have become a way of life in the business world, and VoIP provides a way to integrate all of your mobile devices with your telephone system. Often referred to as "find-me-follow-me", if you leave your office, your VoIP telephone can transfer your calls to your SmartPhone, or even send them to your table email account in the form of a wavefile.
Let Datran Networks, a licensed telecommunications service provider, design, install, and maintain a new VoIP system for your business with $0.00 (zero dollars) up-front cost and a competitive fixed monthly rate.
©
Datran Networks, Inc 2014